DIGITAL SOLUTIONS
MÜBARCODE - MÜCAD SUPPLEMENTARY SOFTWARE
Software for the production of labels with visible codes types
Concept
The mechanical reading of codes is of enormouseconomic significance. It helps to prevent production errors, cut costs and detect counterfeits. Together with partners from the production sector, Jakob Müller AG has developed MÜBARCODE, aglobally patented, innovative and carefully thought-out system for the manufacture of labels with numbers and bar codes.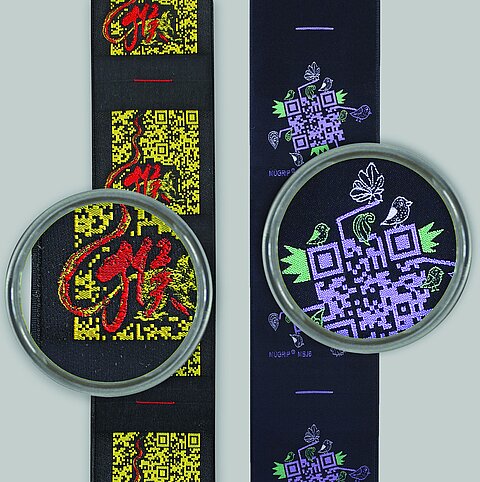 Function
Using MÜBARCODE for visible codes, numbers and letters can be very easily transformed into various codes. These can be logged both manually and mechanically by standard reading devices.
Code types
Code EAN8, EAN13, UPC-A, UPC-E, EAN UCC 128, Code 2/5 interleaved, CODE 39, CODE 39Full, CODE 128 and Code PDF 417, QR-Code and Codabar
Complementary Software
MÜCAD DIGICOLOR: Conversion of high-resolution images for the digital weaving process and the programming of electronically controlled Jacquard machines.
MÜNUMBER MASTER: For producing individually woven, unmistakable and forgery-proof labels with consecutive or free numbering.