DIGITAL SOLUTIONS
MÜNAME-MASTER - ADDITIONAL SOFTWARE FOR MÜCAD
Programming of labels that are difficult to copy or forgery-proof with individual sequential numbering and/or individual identification.
Largely automated production and therefore major savings with regard to manual intervention and increased machine-related advantages
Diverse design and application possibilities with regard to weft and warp effects using MÜCAD
Use of existing textile fonts or Window fonts for larger lettering
The template contains any number of variables, which can be filled automatically with order-related data such as figures, text, a bar code or graphic elements
Straightforward preparation of a template, which can also be purchased as a one-off, which reduces the initial costs and means that the purchase of a MÜCAD is not essential
Simple operation
MÜCAD BASIS
MÜCAD DIGICOLOR
MÜBARCODE
MÜNAME Editor
All articles produced in series with only a few repeats:
Serial designations or washing instructions for articles of clothing
Name tags
Logotypes (also several lines)
Variable type fonts
Combinations with images/logo and/or bar code
Possibility for the automatic adjustment of the label length to that of the text
Case and bag shoulder straps with names, also possible with wide/narrow fabrics
Woven badges: text combined with image and bar code
Military badges with name and rank
Individual scarves with signature
Elastic narrow fabrics or double weaves with name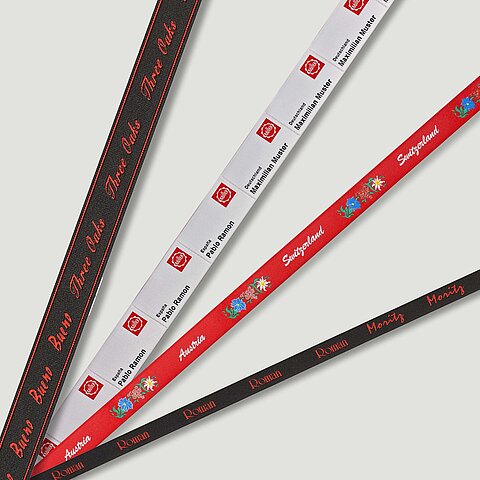 MÜNAME-MASTER Process
For the automatic processing of specific order data by article template. The ready-to-weave sample is prepared automatically and the pattern and order data transferred to the machine without any manual intervention.
MÜNAME-MASTER Editor
For the preparation of specific templates or textile fonts with 254 characters.
Complementary Software
MÜCAD DIGICOLOR: Conversion of high-resolution images for the digital weaving process and the programming of electronically controlled Jacquard machines.
MÜBARCODE: Programming of labels that are difficult to copy or forgery-proof labels with indiviual identification.