NARROW FABRIC WEAVING SYSTEMS
NH2 53
For light to medium-weight elastic and non-elastic narrow fabrics with unlimited repeat lengths.
Compact design
Very high levels of user-friendliness
Low energy consumption (less than 1 kW)
Unlimited repeat lengths due to electronic frame control
Very quick changes of pattern possible, no requirement for the preparation and use of pattern chains or pattern drums with cam discs
Positive-controlled electronic thread transport with infinitely adjustable setting
Electronically controlled fabric take-off
Electronically controlled main drive for infinitely adjustable weaving speeds
Electronically controlled creep speed
Precision fabric take-off with non-slip draught and pressure roller coverings for weave protection
Minimal maintenance requirement
Low spare part requirement due to limited number of mechanical components
Minimal lubrication oil consumption
Optional execution for 1 needle or 2 needle Z-system for H-M-T
NH2 53 4/42 SNO2B
NH2 53 4/42 SNO4B
NH2 53 4/66 SNO2B
NH2 53 4/66 SNO4B
NH2 53 6/27 SNO2B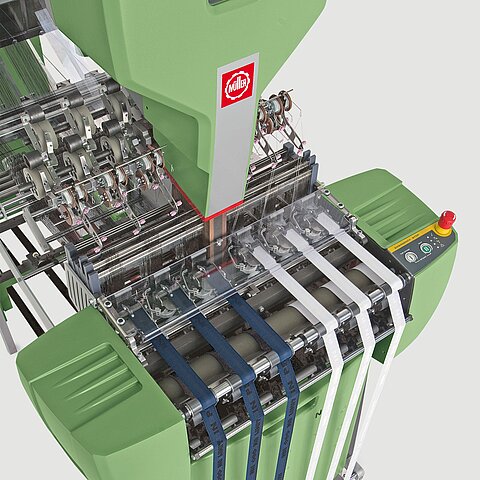 Model
NH2 53 4/66*
NH2 53 6/42*
NH2 53 8/27*
NH2 53 10/18
Number of weaving heads
4
6
8
10
Max. reed width [mm]
66
42
27
18
Max. fabric width [mm]
62
40
25
16
Max. number of shafts
16
Repeat length
unlimited
Max. power consumption
1 kW
* The indications refer to the normal-shed-execution. For these types also a HMT-shed-execution is available [ high-middle-low] for operation with double weft needel [Z4 and Z5]. In this case the maximum reed width is reduced.