DIRECT INKJET PRINTING SYSTEM
MÜPRINT MDP SERIES
For the contactless bleed-off printing of narrow fabrics.
As early as 2011, Jakob Müller introduced the MÜPRINT MDP2, the world's first system for the direct printing of tapes using sublimation inks. The MÜPRINT MDP2 was able to carry out the contactless, direct printing of up to 16 polyester tapes with a total width of 400 mm and, using an integrated thermofixing process, manufacture a product suitable for immediate sale, fulfilling demands in abrasion resistance and colour fastness, as well as textile standards (OEKO-TEX®).
As opposed to transfer and screen printing, thedirect printing of textile tapes using digital ink jettechnology offers a wealth of advantages:
Quick and inexpensive ad-hoc production of printed tape patterns
Print-on-demand from digital designs to just-tape in-time production, short reaction period
Brief changeover times and fast article switches
Single-process, continuous production with a limited operator requirement
Contactless, direct printing that is suitable for use with open fabrics or tapes with uneven or alternating thicknesses (chiffon, velvet, knits, hook and loop, zips, nets)
Excellent wash fastness and abrasion resistance
Bleed off printing over the tape edge
Any repeat lengths and endless printing
Employment of variable data from Excel or text files for personalised / individualised printing or serial numbers
Photorealistic printing
No costs for printing forms, storage, cleaning or transfer paper
High levels of reproducibility without resetting as in screen or flexographic printing
High ink yield
"Texprint" RIP software for the transfer of design/photo files, printing layouts and colour adjustments to the textile materials
Supplementary software: variable data and the creation of printing profiles for specific materials in order to create maximum printout reproducibility
Software modules for the independent creation of colour profiles; available with or without a photo-spectrometer
Portable, ultrasonic tape welder device for tape linkage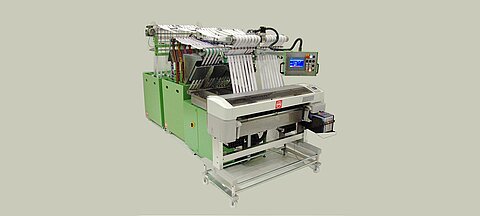 MÜPRINT MDP2
MÜPRINT MDP2E
MÜPRINT MDP3E
Printing process
Inkjet piezoelectric / contactless /
roll-to-roll
Inkjet piezoelectric / contactless /
box-to-box
Inkjet piezoelectric / contactless /
box-to-box
Min. / max. ribbon width
15 mm / 400 mm
8 mm / 400 mm
8 mm / 410 mm
Max. number of ribbons
16
10
2 x 10
Printable substrates
Polyester wovens, nonwovens, knitware
Elastic ribbons with rubber, Elasthan and woven / knitted surface of polyester
Elastic ribbons with rubber, Elasthan and woven / knitted surface of polyester
Print job preparation and transfer to printer
MDP RIP Software
MDP RIP Software
MDP RIP Software
Print process colours
MDP2 inks; Cyan, Magenta, Yellow, Black
MDP2 inks; Cyan, Magenta, Yellow, Black
MDP2 inks; Cyan, Magenta, Yellow, Black
Heat setting of thermal fixation
Integrated system; temperatures up to 200°C
Integrated system
hot air and infrared; temperatures up to 200°C
Integrated system
hot air and infrared; temperatures up to 200°C