WINDING AND MAKING-UP
KFF-C – UNIVERSAL SPOOLING MACHINE
Semiautomatic, for spooling and winding of threads, cords, braids and narrow fabrics in parallel-, multi-cross and precision cross winding.
Freely programmable spool width and winding speed
High winding capacity
Convenient operation
Microprocessor controlled
Winding parameter storage as data record
High precision winding
Programmable winding width and traverse pitch
Step motor and servo controlled traverse
This new generation, semi-automatic bobbin machine is fitted with the latest control and operating technology. A laying motor is employed for bobbin laying. All winding and laying parameters can be flexibly set. Bobbin width, parallel-, cross- and precision laying, laying passes, etc. can be individually programmed and stored. As a result of the use of modern microprocessor controls, movements with an accuracy of 0.1 mm can be reached. Windingpatterns, edge structure and thread laying can be defined by the operator using a control program.
Flexible machine use.
Short setting and resetting times due to microprocessor controls with storable winding parameters that can be retrieved at any time.
Choice of parallel, multi-cross and precision cross-winding patterns.
High levels of operator comfort.
2 winders per head
Length measurement device (light/heavy)
Highly dynamic servodrive for large laying passes and high winding speeds (instead of step morot), with touch screen operation
Knot catcher– "CENSOR" tape defect detection device
Run-off device with permanent and standstill brakes for rolls/bobbins or skeins
Powered run-off device for large bobbins
Untangling and pre-transport device
Multiple yarn take-off from the overhead cones (1 – 8 threads)
Multiple yarn take-off from the creel (more than 8 threads)
Thread brakes and monitors (single or multiple)
Pneumatic thrust bearing
De-tensioning device
Automatic shutdown upon attainment of the desired bobbin diameter
Anti-static device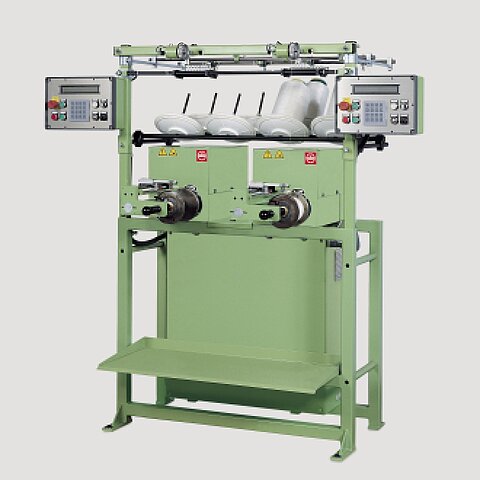 Max. spool diameter
240 mm
Max. spool length
300 mm
[dye spools and filter cartridges up to max. 1000 mm]
Fabric width and/or cord diameter
0,2 – 12 mm