ACCESSORIES
MÜTHERM 2/450 MOBILE THERMOFIXING EQUIPMENT
For fixing both sides of light to moderately heavy tapes.
Mobile dry thermofixing unit, in-line with individual production machines for continual operation,
or as a free standing unit for independent operation.
Concept
This mobile dry thermosetting device for thermosetting and shrinkage effects offers maximum flexibilityof application. It can be fitted before or behind theindividual production machines for targeted use incontinuous operation, or employed as a free-standing unit for independent operation. An separate downstream winder is recommended (not includedin delivery volume). The infeed roller and outlet roller are driven by sep-arate motors. Thus the speeds can be set individually.
The fine adjustment is done by rotary potentiometers.The temperature of the two rollers can be controlled individually. Both rollers have a hot and cold zone. In order to prevent heat damage, during each stand-still the rollers automatically turn their cold zone tothe fabric. MÜTHERM-devices make your products even morevaluable and due to their compact design can beeasily fitted into the production process. For permanent use our looms and knitting machinescan also be fitted with integrated thermosettingunits.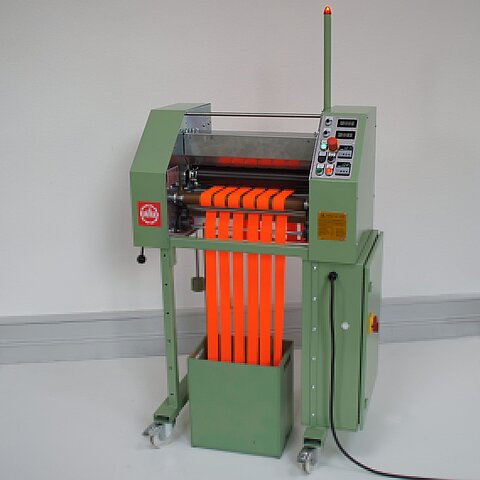 Temperature
115 – 240°C, linear adjustable
Useable width
450 mm
Our looms and crochet knitting machines can be equipped with an integrated thermofixing unit for permanent operation.