NARROW FABRIC WEAVING SYSTEMS
NFM®
Narrow Fabric Loom for light to medium-weight elastic and non-elastic narrow fabrics in all yarn qualities.
Modularity of the platform

Conversion and expansion/ additional options possible at any time
Fully electronic drives
Integrated article storage function for saving pattern and machine parameters

The NFM® platform is designed for world-wide highest production speeds
Modern control platform MÜDATA® M ➜ network ready
Electronically controlled thread transports provide improved and optimal tension control for virtually all thread types

Higher machine efficiency ➜ Easier and faster setting of drives
Small width deviations can be actively programmed per weft insertion
Any weft density variation possible within a repeat enabling the production of articles with combined weft densities

New "run screen" and pictorial visualization of stop causes
Optimized range of fabric widths
Adjustable position of the latch needle shaft: flexible and quick latch needle setting for virtually all weaving systems
Binder thread drive with combined binder thread cam for the easy setting of various weaving systems
Prepared for MDW®
To be easily connected to mymuenet®
Smart warning signal lamp with various colours for differing stop causes

Individual configuration in line with customer requirements

Weaving area illumination for easier setting of weaving elements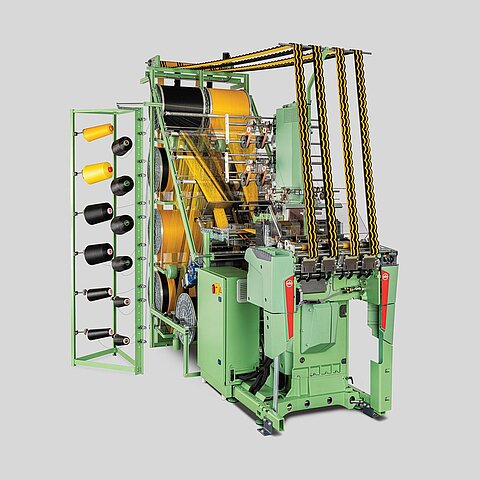 Base model

NFM® 53

Models
10/18 | 4/27 | 6/27 | 8/27 |
6/42 | 2/66 | 4/66 | 2/84 | 2/130
Base model
NFM® 80
Models
12/27 | 8/42 | 6/66 | 4/84 | 4/130
Weaving systems
S1, S2i, S3, S5, Z4, Z5 and many more
Weft density range
4-120 picks / cm
Max. heald frame number
20
Repeat lengths
Cam: 1:8; Pattern chain: 1:8 / 18-48
See further NFM® special devices, accessories and additional weaving systems i.e. for curtain tapes, safety belts and many other applications on NFM® leaflet.