SYSTEMS FOR DYEING / FINISHING / COATING
MFR H - CONTINUOUS, SINGLE AND MULTI END DYEING AND PIGMENTING FOR MEDIUM TO HEAVY WEBBINGS

Pad/thermosol and pad/steam ranges for polyester and cotton or polyamide fibres. Both facilities can be incorporated into a single range to give a fully versatile machine, especially when incorporating pigment dyeing and heat setting facilities for all thermoplastic fibres.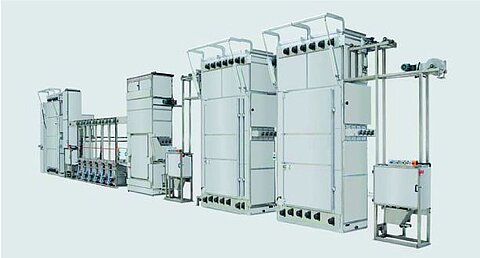 Important features:
In both thermosol and steam ranges the evenness of heat distribution throughout the fixation chambers ensures consistent results.
Heat setting/pigmenting ranges may be equipped with heavy duty haul and brake units to allow the control of residual elongation in the heaviest of webbings.
Options:
In combination ranges the control system may be configured to allow simultaneous, dual operation, for example pigmenting/heat setting and conventional pad steam.