LABEL PRODUCTION SYSTEMS
MULTICOLOR MVC2.8
For labels and trimmings with woven, soft edges.
The use of high-value materials and the simplicity of the machine's basic movements guarantee a high level of long-term reliability, requiring relatively little maintenance of the installation. Technologically high-calibre components are produced entirely within the Müller Group, with the utmost care and a first-class level of know-how. Our goal is to offer the customer a product of the highest possible quality.
Patented multicolor weft insertion system (8 colors maximum)
Weft transport with self-adjustment and tension compensation to guarantee even fabric width
Machine speed set by the pattern program (setting by user surface possible)
Slow motion with separate motor as standard
Meets safety standards under CE directives
Jacquard machine of SPE series, controlled by microprocessor
Microprocessor UNI-control with USB-interface (Option: integrated floppy disk drive)
MÜDATA®4 dialogue system integrated in control system
Pattern creation with MÜCAD
Warp from warp beams with elastic compensation, compensating roller system or DIGIKAST control system
Selvedge threads and reps on separate warp bobbins
Warp density can be increased by adding monofil threads, making interlacing points invisible and producing a homogenous sparkling effect
VARISPEED and VARIPIC for the optimal monitoring of machine speed and weft density in accordance with label quality requirements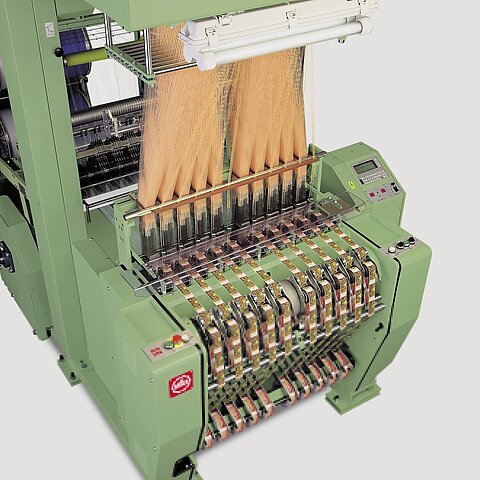 | | |
| --- | --- |
| Model | 200 |
| Number of spaces | 9 – 20 |
| Max. reed width [mm] | 66 – 24 |
| Max. no. of weft colours | 8 |
| Shedding motion | Electronically controlled Jacquard machine of the SPE-series |
| Programming systems | MÜCAD, MÜCAD DIGICOLOR |
| Control | MÜDATA®4 |
| | | | |
| --- | --- | --- | --- |
| mvc2_8_en_61125_08_15.pdf | EN | 464.17 KB | Download |
| mvc2_8_de_61125_08_15.pdf | DE | 465.83 KB | Download |
| mvc2_8_es_61125_08_15.pdf | ES | 488.51 KB | Download |
| mvc2_8_fr_61125_08_15.pdf | FR | 468.47 KB | Download |
| mvc2_8_it_61125_08_15.pdf | IT | 2.14 MB | Download |
| mvc2_8_tr_61125_08_15.pdf | TR | 545.53 KB | Download |
| mvc2_8_ch_61125_08_15.pdf | CN | 556.69 KB | Download |